Long-gone are the days of having to carry heavy crates of vinyl to DJ gigs.
Nowadays all you need is a couple of good USB sticks to plug into the CDJ's and a great pair of DJ headphones.
Unfortunately, buying a good USB stick for your DJ sets isn't quite as straightforward as you might think. The USB drive you choose for DJ'ing needs to be durable, fast and of course, have enough memory to store your music.
We have taken these factors into consideration while putting together this list. All of the USB drives featured in this post are highly recommended for DJ's.
Corsair CMFSS3B-64GB Flash Survivor Stealth 64 GB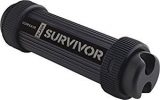 The Corsair 'Survivor' range of USB drives are perhaps the most rugged on the market. The shell is made out of Military-style materials making the USB drive virtually indestructible. It's waterproof (up to 200m), shockproof and very fast.
Store all your tunes without worry on this bad-boy stick – This is the stick of choice for the clumsy DJ!
---
SanDisk Extreme CZ80 64GB

This powerful USB stick is perhaps the fastest on the market. Transfer your tunes in lightening speed (Read Up To 245MB/s; Write Up To 190MB/s). This is more expensive than some of the other options but if you want a USB drive for DJ gigs that won't let you down it comes highly recommended. 
This is the one for the speed freaks 
More Info / Buy From Amazon
---
Samsung MUF-BA 64 GB 3.0 Memory Bar USB Flash Drive
This super-sleek looking USB drive is one of the best-looking dri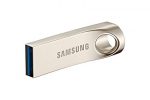 ves n the market, but more importantly, it's innovative design also makes it one of the most durable DJ USB drives around.
Waterproof, X-Ray proof, Shock resistant and a five-year warranty just in case! Whats more this is one of the cheapest drives we have featured in this post with a price of around £25 for the 64gb version!
---

This tiny USB stick isn't the fastest in our list but it has a lot going for it. It's tiny and very tough! Make no mistake, this is a great bit of kit for any DJ!
---
Kingston Technology 64 GB DataTraveler

Keep this great USB drive on your keys at all times and never forget it when you head off to your gigs! This drive is powerful – 64gb of memory, fast read/write speeds and Guaranteed with five years warranty & free technical support.
This stick won't let you down when it matters.